Hello Dear Friends,
To all our fellow knitters and crocheters, all of us at Once Upon a Sheep want to let you know we are thinking of you during these strange times. Each of us has been knitting and crocheting away our days, longing for the time when we can return to the shop and greet our customers once again.
What have you been working on? Sweaters? Shawls? Accessories for next year? Another great idea to use up stash is knitting toys for children. Here are some great websites/blogs to visit if you like toys. Click on the photos to go to their blog. Many of their patterns are available on Ravelry.
There's not much you can do when you're stuck inside. For knitters and crocheters, we do our thing. I'm sure many of you are using up your stash at record speeds.  Arne and Carlos are doing the same. Click on the photo to go to their blog and read how they are coping.
Rowan has some new designs for the home. Check these out:
As if we didn't already know... Here's a good article for you to read. Just click on the photo below
Berroco is doing something to help local yarn shops. If you want, you can order project kits through us and we can send the order in and they will mail it directly to you. Click on the image to the right and check our what they have available.  If you would like to order one of the kits, send us an email to onceuponasheep@gmail.com and we will place the order for you.
If you would like to be in the next blog post, send us a story of what you're knitting, who it's for and a decent photo, and we'll include it in and upcoming blog post. If you're brave, you can include yourself in the photo!
We are still helping customers at the shop. If you send an email to onceuponasheep@gmail.com letting us know what you're looking for, we can arrange for a volunteer to come and help you out. We take payment over the phone, use sanitary precautions on packaging and can pass your package out to you. We've been able to help several customers this way. We may be able to send something through the post if you are unable to come, but it would be on a case by case basis based on if a volunteer is able to accommodate that request. Drop us an email and let us know how we can help.
We are still supporting the ministries of The Salvation Army, however, all children and adult camps have been cancelled this year. If you would like to help by donating, front line workers are continuing to serve through this pandemic to people who are hungry and homeless.  Many people are struggling to make ends meet with job loss and lowered incomes. The Salvation Army is grateful for the support of the public who have stepped up to donate and offer assistance. You can donate over the phone to us. Contact us by email and we'll arrange for someone to call when they're at the shop and take your payment info over the phone and we will send you a receipt.
Or you can donate online – here's how:
1. Click on the Red Shield below.
2. Choose "British Columbia" in the drop down menu
3. Choose "Maple Ridge – Ridge Meadows Ministries" in the second drop down menu
4. Choose amount to donate – you can donate by credit card or PayPal.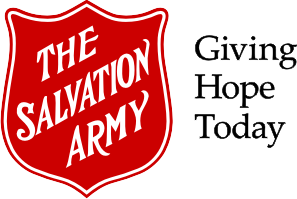 Thank you so much for your continued support of our little shop. We care about all of you and continue to keep you all in our thoughts and prayers. Stay safe and healthy and keep knitting and crocheting.